Posted on 2008-11-29 by adminNo comments
Cabal Online (Korean: 카발 온라인) is a free-of-charge, 3D massively-multiplayer online role-playing game (MMORPG), developed by South Korean company ESTsoft. Different versions of the game are avaliable for specific countries or regions, published by various companies such as OGPlanet and Asiasoft. Although playing the game is free, Cabal Online has "Cash Shop" which allows players to purchase game enhancements and useful ingame items using real currency. The game takes place in a mythical world known as Nevareth, which was decimated by an evil entity known as the CABAL. Out of the survivors, seven "Masters" rose up, each wielding the abilities of the "Force Power". These masters taught the people, and the world was rebuilt. Years later, the CABAL is plotting a return to power by breeding a child to be the new king. The players of the game take up the role of heroes who battle the CABAL uprising and conspiracy.
Cabal Online Trailer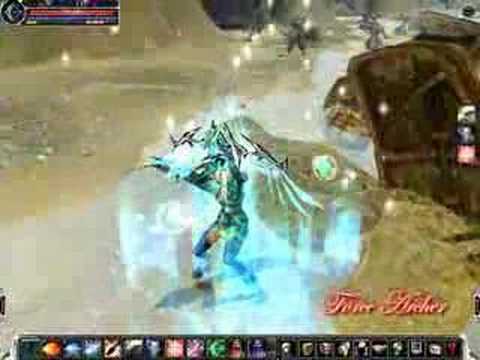 Cabal Online Gameplay
http://www.youtube.com/watch?v=o7YI8lyoH5c">
http://www.youtube.com/watch?v=o7YI8lyoH5c/0.jpg" alt="YouTube Preview Image" />
Like many MMORPGs, gameplay centers around killing monsters, doing quests and venturing into dungeons to obtain
experience points
(EXP) and "Alz", the ingame currency. Players can band together to form a party, with a maximum of 7 characters. Extra "party experience" is obtained by the members of the party, based on their contributions. Charcters exist on "servers", each with its own unique name (e.g. Mercury, Venus). However, players from different servers cannot interact with each other, and chracters cannot be transferred between servers. In each server, players can create multiple characters. Each server offers the same ingame content, and is split into 20 different channels, among which players are allowed to freely switch. There are specific channels for certain activities, like Trading and conducting War.
Character Classes
  A low level force blader using magic to fight monsters in Cabal Online. The character and inventory dialog screens are open.There are six character classes in Cabal Online. Once a character is created, the player must choose which character class that character will assume.[7] The six character classes are: Warrior, Blader, Wizard, Force Blader, Force Shielder and Force Archer. Characters who assume different character classes will differ in several aspects, including the location they start the game and the type of weapon and armor they use.
Player Versus Player ( PvP )
To start a PvP, players have to target another character and click "Request PvP" on the character menu that will appear. After both players have agreed on a PvP, a 5 seconds timer will count down before the PvP will start. 3 minutes will then be given to end the battle. Players are not allowed to use potions in PvP. The winning character would be informed of the PvP result, while the losing character would be informed of his death, and will be revived from the closest warp gate with no death penalties.
Cabal Online, Cabal Online Introduction | 262 views read more ...