Posted on 2009-01-03 by adminNo comments
Combat Arms is a free-to-play multiplayer first-person shooter developed by the South Korea based developer, Doobic Studios, and published by Nexon. History The closed beta started on May 29, 2008 exclusively through FilePlanet and ran for one week. It ended on June 6th. This beta was limited to users from North America, South America and Oceania. In the closed beta, 4 maps and 30 weapons were available. On June 26, Combat Arms went into in Pre-Open Beta Phase, whereby the game was open to the public, but it was still being tested and changed to prepare for Open Beta. Pre-Open Beta was also limited to users from North America, South America and Oceania. The Official Launch of Combat Arms started on July 11, 2008. On the 8th of August 2008, Nexon announced that a Combat Arms service shall be started by Nexon Europe, for European Players. On 25 September 2008, the Combat Arms Europe Teaser website was activated by Nexon Europe, and on 28th October 2008, Nexon Europe started the Combat Arms Europe Closed Beta testing. Closed Beta testing finished on the 11th November 2008, and the Open Beta testing began on 16th December 2008 and shall last until 15th January 2009. The game is still in its Open Beta phase in Europe, and is now fully released in North America.
Combat Arms Game Trailer
Combat Arms Gameplay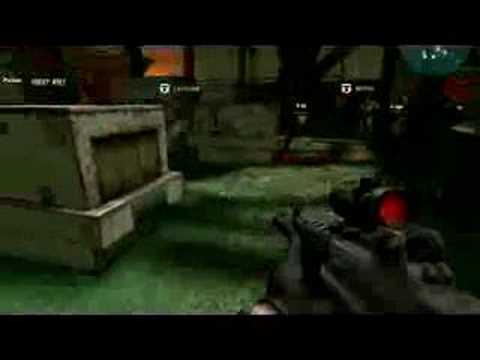 Gameplay Combat Arms is entirely a multiplayer game with no single-player mode (although the Korean Version has a scenario/co-op mode that might be released in the Global Version), and contains 5 game modes as of now: Elimination (Team Deathmatch), One Man Army (Deathmatch), Search & Destroy (Bomb mode), Spy Hunt and Capture the Flag. Players who start a room (known as the Room Moderator/Master/Host) are able to choose the map as well as in game settings (game mode, types of weapons allowed, etc). The game master changes to the next player in line automatically if the original master leaves, and so on. This does not affect the game, since games are hosted on Nexon servers, not by the master player. The game also includes a Black Market. The Black Market uses currency known as "Nexon Cash" (or NX) which is a pre-paid card bought with real money at different retail stores. The Black Market supplies mainly cosmetic items which do not give you an advantage over those who do not purchase from the Black Market. Things like different outfits, new characters, and modifications/additions to weapons are available for purchase. Most weapons are bought using an in-game currency called "GP". GP which actually means "Gear Points" but is commonly mistaken to mean "Game Points". In addition to this, there are some weapons that have rank requirements. The main weapons are free for any player of any rank to use, however. The ranking system follows the ranks of the United States military with the lowest being Trainee and highest being General of the Army. Money GP can be earned from playing games, awarded by leveling up, or buying it with items in the Black Market. The GP cost depends on the players choice of weapon and length of purchase, varying from 1 day to 90 days. Items cannot be purchased permanently from the in-game shop. Most of the items purchased from the Black Market aren't permanent; items typically last for either 30 days or 90 days, depending on the amount of NX spent on them. There are some items in the Black Market that affect the name of a player or a clan (Name changes and clan emblems, for example) and are permanent.
Combat Arms Introduction | 363 views read more ...