Posted on 2007-12-29 by adminNo comments
Star Wars Galaxies (abbv. SWG) is a Star Wars themed MMORPG for Microsoft Windows developed by Sony Online Entertainment and published by LucasArts.
Star Wars Galaxies  Trailer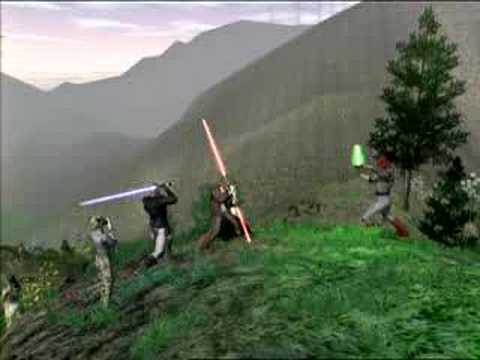 Star Wars Galaxies  Gameplay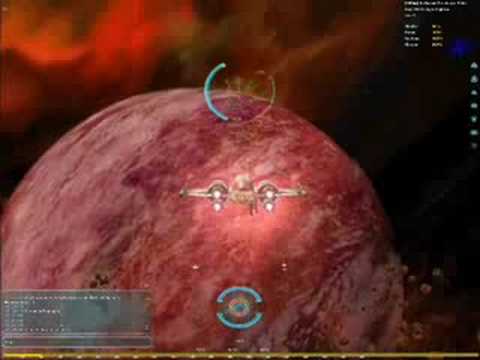 Gameplay features As with all MMORPGs, the feature set of Star Wars Galaxies is subject to change. Timeline The game events are set following the destruction of the Death Star in Episode IV: A New Hope, but before the beginning of Episode V: The Empire Strikes Back. Geography The game launched with 10 planets: Tatooine, Naboo, Corellia, Talus, Rori, Dantooine, Lok, Yavin IV, the forest moon of Endor, and Dathomir. In the second expansion, Rage of the Wookiees, the Wookiee home planet Kashyyyk was added. In the third expansion, Trials of Obi-Wan, the planet Mustafar was added. Each of the original 10 planets are represented by approximately 225 square kilometers (15 km x 15 km maps) of game space. In contrast, the expansion planets of Kashyyyk and Mustafar are smaller, constructed differently (e.g. instances) and in some cases imposed different rules than the original, such as terrain that is not traversable (i.e. mountains or hills that cannot be climbed over). In addition to the 12 planets, there are 12 space zones, each encompassing approximately 3400 cubic kilometers (15 km cubes) of fully-navigable space. Nine of them are associated with one or more of the playable planets: Tatoo (Tatooine), Naboo (Naboo and Rori), Corellia (Corellia and Talus), Dantooine, Karthakk (Lok), Yavin, Endor, Dathomir, and Kashyyyk. (Mustafar has no associated space zone.) Kessel and Deep Space have no planets and are used for high-level gameplay and player-versus-player combat. The Ord Mantell sector was released in January 2008 as a new space-only zone, though there is a space station there (called Nova Orion) where pilots can land and acquire quests. The planet Hoth was added in November 2008 as part of an instance. However, the planet can only be explored during the events of the Battle of Echo Base. Graphics The game is generally praised by reviewers for its realistic character models, detailed architecture and lush environments. Points of interest and cameos Examples of characters and points of interest that players can visit within the game include R2-D2, C-3PO, their escape pod on Tatooine, the Naboo Royal Palace, the abandoned Rebel bases on Dantooine and Yavin IV, the notorious pirate Nym in his stronghold on Lok, Ewoks and Rancors. Other main characters include Luke Skywalker, Han Solo, Princess Leia, Darth Vader, Chewbacca, Emperor Palpatine, Admiral Ackbar, Jan Dodonna, Boba Fett, Jabba, Bib Fortuna, Salacious Crumb, Max Rebo, Wedge Antilles, Gavyn Sykes, HK-47, Boss Nass, Admiral Thrawn, the "reincarnation" of General Grievous as NK-Necrosis, and the Force ghost of Obi-Wan Kenobi. References are also made of characters from the Star Wars Expanded Universe, such as Grand Admiral Thrawn and Mara Jade from the Thrawn trilogy, and HK-47 from the Knights of the Old Republic series of games. The game also references the other two Star Wars spin-off films, in that the player may encounter the Gorax species from Caravan of Courage: An Ewok Adventure, and the base of the Sanyassan Marauders, as seen in Ewoks: The Battle for Endor. Species and professions The 10 species available to players include: Human, Twi'lek, Zabrak, Wookiee, Trandoshan, Rodian, Mon Calamari, Bothan, Sullustan and Ithorian. There are 9 professions: Jedi, Bounty Hunter, Smuggler, Commando, Spy, Officer, Medic, Entertainer, Trader. In addition to these professions, a character can also choose among three Pilot sub-professions and optionally enter the Politician sub-profession. Characters can specialize in different areas of their main professions by selecting "expertise" options, including Beast Mastery. The Trader profession includes four specialties: Munitions (for crafting weapons and armor), Domestics (for crafting food and clothing), Structures (for crafting furniture and housing as well as ships and related components), and Engineering (for crafting droids). Ships The Jump to Lightspeed expansion made individual ships attainable by players for the first time. This allowed players to acquire and pilot ships of various sizes. Ships ranged from fighter-sized ships up to ships like the Millennium Falcon. Some players choose to play most of the game in space, while others play in both space and planetary settings. Combat mechanics Ground combat is currently real-time and similar to a first-person shooter. The player must aim a targeting reticule at a target and left-click the mouse to fire. Auto-aim and auto-fire features are available, creating a more traditional combat experience, but players eschewing those options are rewarded with an increased chance to do maximum damage. As characters gain levels, they gain access to additional combat abilities called "specials" which are activated by using the right mouse button. These specials usually have a cool-down period. In addition to providing especially powerful damage attacks, specials are also used to heal, buff, debuff and crowd control. Players gain the ability to use more powerful weapons as they advance in level. Players also earn "Expertise Points" as they level up which they can use in their professions expertise "tree". The player can allot 45 points into various abilities and attributes to make their characters more diverse, from weapons specialties to healing and armor proficiencies. Player housing, guilds, and cities Characters can erect, own and decorate a variety of buildings, including houses, cantinas, guild halls and city halls. These buildings, when grouped, can be organized into cities. Players hold elections via ballot box for Mayor. Elected mayors grant city members certain rights to place structures within the city and disallow the use of various civic structures by individual players as needed. Elections are held every three weeks. If another player wishes to run for mayor they can add their name at any time to the ballot box to run against the incumbent. As cities grow in population, they become eligible to add services and facilities such as vehicle repair garages, shuttleports, cloning facilities, hospitals, cantinas and garden displays. They can show up on the planetary maps alongside canonical cities such as Theed and Mos Eisley. The gameplay design encourages realistic social institutions such as a dynamic player economy and other real-life social phenomena like a complicated division of labor. According to Star Wars Galaxies and the Division of Labor, the division of labor in Star Wars Galaxies around April 2005 produced in-game results similar to those in real life. Galaxies' original game design socialized players to specialize their characters by mastering one or two professions, and to join guilds, in which players relate to one another primarily in terms of their professions (eg: "I am the weaponsmith, so I make weapons for the guild") — just as in real life, people are tied to one another by organic solidarity. Other features Single- and multi-passenger ground vehicles and starships: (landspeeders, speeder bikes, swoops, X-wings, TIE fighters and even several of the YT series of ships) Player-run virtual economy where player characters are responsible for creating many in-game items including blasters, starships, clothing, armor, food, housing, furniture and even a wide variety of droids. Items are created from player-collected raw materials and looted items. An extensive set of emotes, moods, and associated animations, which affect not only an avatar's physical appearance but also the text used to describe a character's speech, and even the shape of the speech bubble displayed on-screen. Standard MMORPG features such as player guilds, chat functionality, and other community features. The ability for players to place bounties on opponents that killed them in PVP. Player character bounty hunters can then pick up another character's "bounty mission" on the terminals and track the character down. A bounty can be claimed at anytime, regardless of the target's PvP setting. Up to three bounty hunters can be tracking a character at any given time. An extensive character creation system. Characters can hire Entertainers to change their appearance in-game, with even more options than those available at creation. Many visual aspects of a character are thereby changeable at any time after character creation except species and gender. The game references and features elements from The Star Wars Holiday Special, such as Lumpy's stuffed bantha, and the customs of Life Day, when the player visits Kashyyyk. The red Life Day robes the Wookiees in special wore are also available during special events in the game.
Expansions
Jump to Lightspeed Main article: Star Wars Galaxies: Jump to Lightspeed This first expansion, Jump to Lightspeed, was released on 27 October 2004. Two new races were added: Sullustan and Ithorian. The expansion added space combat. Characters choose one of three factions in the new Pilot sub-profession: Rebel, Imperial, or Freelance. The playable sectors include the space surrounding the 10 planets of the game as well as Ord Mantell, Kessel, and "Deep Space." Combat is real-time and twitch-oriented like a first-person shooter and can be played with a joystick at the player's option. A new Artisan profession, Shipwright (now subsumed into the Trader profession as part of the Structures specialty), was also introduced. This profession created ships, shields, armor, weapons, etc for players. They also had the ability to take looted components from space and reverse engineer them into better components. Rage of the Wookiees The second expansion, Episode III Rage of the Wookiees, was announced on 9 March 2005 and released on 5 May 2005. It added the Wookiee planet of Kashyyyk and its corresponding space sector. Kashyyyk is different from the previous 10 planets: rather than being 16 square kilometers of openly navigable area, it is divided into a small central area with several instanced "dungeon" areas. A new space zone was also added. Other content added in this expansion included the ability to add cybernetic limbs to a player character and quests for two new creature mounts and three new starships. A substantial portion of the content for this expansion was adapted from the film Star Wars Episode III: Revenge of the Sith which was released to theaters in the U.S. on May 19, two weeks after the expansion release. Trials of Obi-Wan The third expansion, Star Wars Galaxies: Trials of Obi-Wan, was announced on 19 August 2005 and released on 1 November 2005. This expansion added the ground planet of Mustafar to the game. No new space sector was added with this expansion. Like the previous expansion, much of the content is related to Revenge of the Sith, which was released to DVD on the same day as the expansion was released. Additional content, including the presence of the droid HK-47, is based on the Knights of the Old Republic games. Champions of the Force On 27 August 2008, LucasArts and SOE released Champions of the Force as a game update which enabled people to play a new card game feature. In the game, people can collect, battle, and trade with each other as well as buy new cards with money and get new in-game items from the cards to use such as podracers and house paintings. Over one hundred cards were created for players to find and play against others with new artwork featured on each card. On 16 December 2008, SOE launched a new deck in the card game, entitled Squadrons Over Corellia.
Star Wars Galaxies Introduction | 237 views read more ...