Posted on 2007-12-29 by adminNo comments
The Chronicles of Spellborn (TCoS) is a MMORPG, developed by Spellborn International and distributed by Frogster Interactive, set in a post-apocalyptic fantasy world. Spellborn uses the Unreal Engine, featuring a so-called European Art approach and contains notable contributions from Jesper Kyd. Spellborn distinguishes itself from other MMORPGs by emphasizing the focus on story line, separating the look and the statistics of gear, integrating PvE (Player vs Environment) and PvP (Player vs Player) and offering combat that is fast paced and more reliant on player skill. Dutch band Within Temptation wrote two songs for the game: "The Howling" and "Sounds of Freedom".
The Chronicles of Spellborn  Game Trailer
The Chronicles of Spellborn  Gameplay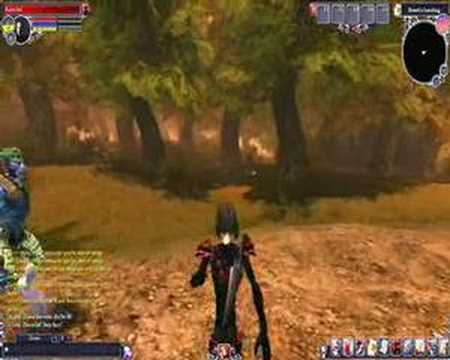 Spellborn consists largely of conventional MMORPG gameplay, in which the player plays a character (his avatar), and explores the gameworld in order to gain experience points and advance in level. In exploring the gameworld, he encounters quests, the most important part of Spellborn's gameplay. The game has about a thousand of these quests.[4] Completing quests is the primary means of earning experience points. Repeatedly killing creatures ("Grinding" in gaming jargon) to gain levels is not a practical option in Spellborn. Separate from other story-driven quests are the Ancestral Quests, which allow the player to take the role of a major character in Spellborn's history to accomplish a specific requirement. Players need to complete certain Ancestral Quests in order to advance their character's story arc. Spellborn incorporates a first person targeting system. In this system, the player selects an available skill to use, while aiming at the opponent. The player can also use two skills at the same time to create combinations.
Characters
| Warrior | Mage | Rogue |
| --- | --- | --- |
| Bloodwarrior | Ancestral | Deathhand |
| Wrathguard | Void Seer | Skinshifter |
| Adept | Rune Mage | Trickster |
In
Spellborn
the player can choose Humans and Daevis as
race
, who can become all classes and feature no special advantages or flaws. At character creation he can select one of three archetypes, which then spread into three different
classes
each at level 5. Every class gets access to several different
skills
, which can be used in combat, but due to the
Skilldeck
system players can only choose between a few at any time. Every skill a character has learned in his career is listed in the skill book. Some skills are unique to certain classes, while others are shared between them. Characters learn new skills as they increase in level. At maximum level a character can also learn the skills of the other archetypes (but not classes) by exploring certain places in the game's setting. These skills all increase with power along the
attribute
they depend on — either Body, Mind or Focus. This means skills learned at an early stage can be useful at later moments as well. Armor and weapons in
Spellborn
do not provide any statistical improvements to the player's character.
[

9

]
. Instead, they serve aesthetic purposes. Players can choose their character's appearance at the beginning of the game, and can change it later by using different items with higher requirements. Players can enhance their gear with the so-called
Sigils
. These enhancements are interchangeable between different items. The Chronicles of Spellborn features an innovative combat system where players have to manually aim at their opponent to damage them. There is no more auto-lock on target, so players of Spellborn have always full control over their character's actions.
The Chronicles of Spellborn Introduction | 320 views read more ...