Posted on 2008-11-30 by adminNo comments
 Holic is a cute-style MMORPG developed by the well-known online game developer Mgame based in Seoul, South Korea. The game features meticulous scene setting, adorable characters and plenty of action and emotes. In addition, the game is unique for its class revolving system, over kill combat system, man canon, etc.
Holic Online Trailer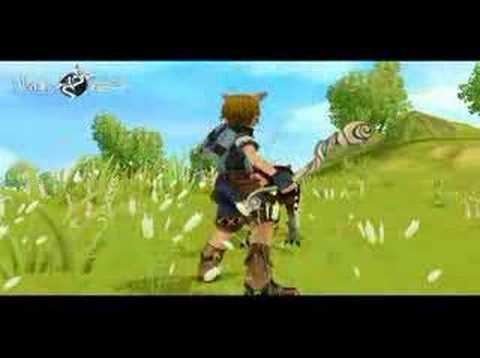 Holic Online Gameplay
Character:
Seneka Originated from the western side of Walled. A well balance physiques and outnumber than other races. They do not outperform or underperform other race in attack or defense, but they do have a shorter lifespan. Tata(Male Senekan), Nena(Female Senekan). Koshare From eastern region of Walled and not in great numbers, they are kinda cute and small characteristics. But they are very interested in combat. They are selfish little devils. Puer(Male Koshare), Puella(Female Koshare).
Job:
Warrior Leader of a pack and a center-figure in combat. They have the most balance among all classes in Holic. Mage Absolute magic and the power of sage. Act as a sage to keep up with the flow of a combat and as a mental support for others. Monk Simple strength, extreme power. They have faster attack speed and stronger body than other classes. They are true fighters. Bandits Fast speed, cunning strategies. They are gifted in surprise attacks, pickpocketing and hiding. Priest Save lives and heal like most other priests in other MMOs.
System:
Class revolving You can preset the jobs with an NPC and use skill button to switch from one class to another. If there's no penalty applied to the character, then you will be able to freely switch from on class to another to use combination of skill to form an optimal combat strategy. Knockback bonus Can earn bonus depending on how you attack and how your attack caused your opponent to be damaged, pushed ,or fly over a distance. Combo relay A party uses a magic skill that is formed with 7 ppls. Combined with 7 types of skills and magic, the Seven sign combo can cause 7-combo damage (the ultimate party skill). Beside the bonus damage, the graphic of Seven Sign Combo is very fancy. Extreme Dungeon Ppls must form parties with each one taking a different role and obligations to challenge the Extreme Dungeon in groups. You will have console-like game play through extreme dungeon. UCD(User Created Dungeon) You can even create your own dungeon to play. UCQ(User Created Quest?) Upcoming Human Cannon It is used as a way to travel a long distance safely in Holic. Robo-pet system Mount at lvl 20. Pet at lvl 12. Pets can fight, serve as a means of transportation, use item on ppl. Also pets wit smart AI, fancy outlook, and effective equipment. You can dress up or equip your pet and give them a name. 2 Camps Select Primus Union and Ganab Rivero. You must be over lvl 20 and should not be in any type of guild and then you can select one of them. Once you select a camp, you cannot change to another ever again. Control WSAD and Point & Click movement system. WSAD is a little flawed, you don't strafe when pressing A or D while holding the Right click, you still turn. 'V' key is to switch between First Person view and Third Person view. Press F2 to Regen HP and MP. Press ~ to Auto Loot items. Enter key at NumPad is not considered 'Enter'. You have to use the big one to the left.
Item:
Every piece of equipment is class-based. Scrolls can be used to upgrading items. Also you can use gems to enchant an item and the item is expanded depending on the socket on it. Items can be purchase or traded through personal stalls, auction, rapid delivery, item storage/grade, purchasing, transportation related system. Can't use Mousewheel to scroll down screen.
Quest:
A lot quests for different levels ppl. Two storylines: Scenari Quest System, experience the world scenario. Happening Event System, connect you to people and incident of his/her lost past.
Others:
Potions are quite cheap. You will need it also if you aren't a Priest or don't party with one. You gain more Stat automatically when you lvl up. You gain new skills automatically when you lvl up. Accuracy is important!
Holic Introduction | 317 views read more ...