Posted on 2008-11-30 by adminNo comments
Neo Steam is a full 3D Steampunk Massively Multiplayer Online Role Playing Game developed by Joyimpact and published by Hanbitsoft. You can choose from four different races and 4 jobs, with sub jobs for class diversity. In a world where Neo Steam is the most valuable source of energy, three kingdoms have risen for power. These three kingdoms fight an all-out war to decide who will be the rightful of the neo steam generator.
Neoteam Trailer
Neosteam Gameplay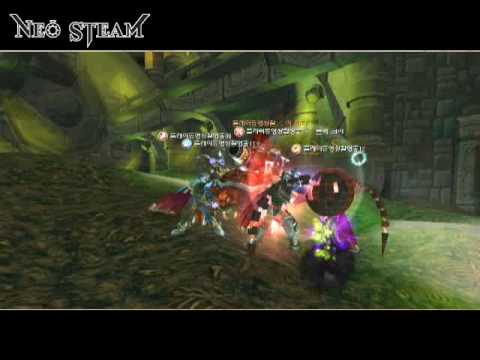 Races When picking a race you first need to choose a Technique or Mystery type This decides what your second job choices are.  Human The human tribe which are adapted and sociable have been living distributed widely throughout the whole continents. National and regional trait had changed their abilities a little, but basically they have a high agiity so they prefer the rogue class.  Elf There is a little bit different appearance for each continent, but basically Elf is a lovely tribe because of their slim and beautiful fiqure. They have an affable manner and looking forward to seeking so they have a lot of interestings about the mage class.  Pom Ther'e innocence and short dwarves like the side of a house, but their products made by them are too great to put a premium.They are always producing something so the craftor is the best job for them among all jobs.  Luife,Liel,Taroon They have a orthograde best appearance with a bulky attitude like a giant but LUIFE can be devided by 3 races with different figures. But basic habitudes are similar and their characters are intrepid and brave. They used to use their physical strength and they have intense aspirations towards the fighter as their hero.  Jobs There are four Jobs to choose from. They are Fighter, Mage, Rouge and Crafter.  Fighter Second Job for technique types are Weapon Master,Defender. For Mystery type Warrior,Paladin.  Mage Second Job for technique types are Rune Caster,God Caller. For Mystery type Wizard,Summoner.  Rouge Second Job for technique types are Tracker,Shadow Walker. For Mystery type Ranger,Assassin.  Crafter Second Job for technique types are Artifact Maker,Animator. For Mystery type Smith,Engineer.
Neosteam Introduction | 540 views read more ...