Posted on 2008-11-30 by adminNo comments
Secret of the Solstice is a free MMORPG (Massively Multiplayer Online Role Playing Game) developed and published by DNC Entertainment in Korea and hosted by Outspark in the international English market. It is the second MMO published by Outspark, and includes many features common in the MMORPG genre such as an online persistant world, quests, and item crafting. Secret of the Solstice features a cute, anime-inspired visual style. Player characters, monsters, and non-player characters (NPCs) are represented as 2D sprites while environments and background elements are rendered in 3D.
Secret of the Solstice Trailer
Secret of the Solstice  Gameplay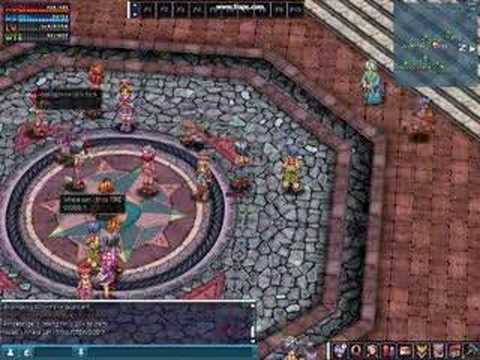 As with other MMORPGs, Secret of the Solstice allows players to control avatars in a persistent game world where they can explore the landscape, battle monsters, complete quests, learn skills and magical abilities, and interact with NPCs and other players. The game rewards success with in-game money, items, and experience points. As players earn experience, they level up and grow more powerful. Secret of the Solstice has a maximum level of 179.  Player characters When first creating their characters, players can choose their avatar's gender and pick from three different hair styles and colors. All characters initially use the same sprite.  Vital statistics Upon leveling up, players receive a single status point (except for levels that end in a 5 they receive 2 status points and for levels that end in a 0 they receive 3 status points), which they can spend to increase any one of their six statistics and customize their character. Players who mistakenly spend Status Points incorrectly can respec in-game and reset all of their statistics to 1, allowing them to re-spend the points in a more beneficial manner.  Character classes All Secret of the Solstice players begin the game as a Xenian, a very basic class with very basic skills and abilities. After completing the in-game tutorial and reaching level 16, players can select a more specialized class by joining one of the four job guilds – squire, apprentice, acolyte, and neophyte. Players buy most of their class' skills from skill book merchant NPCs. The skills they can learn are dependent on their character's job and level. Players can acquire second grade skills from defeated enemies or by trading with other players. There are three skill types: single-target "General Skills," multi-target "Scope Skills, or Area of Effect (aoe)" and "Sub Magic Skills," which strengthen characters. There are 4 basic classes to start with, and two prestige classes available later. The squire is the basic close range fighter class. It has the best defense of the game and operates based on strength. At level 66 a class change to knight is possible. At 96 another change to warrior is available. Another class change will be added in the future called Warlord. The aoe skills for this class initially are reflections and wild swing, fire swing is available later. This class has one skill it can share with other players as a buff and that is called blazing which increases the life force or health of all players nearby temporarily. The other close range basic class is the neophyte. The neophyte is the speed and agility based thief class of the game. There defense is based on dodging. Their armor and attack is less than the fighter class. At 66 the class of rogue is available. At 96 Assassin, and in the future shadow master will be available. This class offers some interesting skills such as invisibility and a warping skill called extract. The aoe skills are circle trap and an aoe skill called sandstorm that scatters a mob. The buff this class can offer other players is called accuracy and it increases the skill rate of any players buffed. This class has a couple of destroy over time, or dot, skills including poison blow and cruel blow. A prestige class distance fighter is available at level 45 from the neophyte class. This is the scout. This is your basic hunter/bow user class. It has less defense than the rogue or knight classes, but it compensates with a stronger, ranged attack. At level 80 the archer class is available and later the ranger class will be added. Basic Area of Effect skills are brambleway and recticle trap. This class has several dot skills including siphon and poison arrow. The basic distance fighter is the apprentice class. These are magic users and do the most damage per strike in the game, although the scout class comes close. They have very poor defense and are meant to be ranged attackers. The Area of Effect skills of this class are lightning, frost, and icicle. Later Area of Effect skills available include volcano and ice shards. At level 66 the apprentice can become a mage and at 96 a wizard. A final arch-mage class will eventually be available. This class has a dot called magic poison and magic flame which causes bleeding when the wizard reaches level 106. Both the ranged fighters have less defense and as such are better at supportive Area of Effect than at mobbing. As such both brambleway and frost are considered binding skills used to hold mobs of monsters together so that another Area of Effect such as recticle trap, lightning, circle trap, or wild swing can be used to actually kill the mob. The final ranged fighter and magic using class isn't really a fighter, but a healer. The healing class starts with the acolyte, which at 66 becomes a cleric, at 96 a priest and eventually will be able to become a paladin. This class has poor defense and a slow, weak attack. It compensates by being able to heal itself and others and to be able to increase the attack strength and defense of any other player. It has several buffs available including fist up to increase attack, bless to increase defense, meditate to speed mp regeneration and a second short term defense buff called guardianship. The only Area of Effect skill is an Area of Effect heal. The class has several stuns and two dot curses called ghost steel and oblivion and a curse to lower defense called howling. A second prestige class is available at level 45 for the acolyte class called the disciple. Interestingly enough, this class is not considered a magic class and is not ranged. t is a close range physical fighting class that is strength based like the knight. It has defense more in line with the neo class but has self buffs for attack and defense. It gains two Area if Effect skills called chainblock and deadlock. It has no distance or dot attacks, but two stuns. It also has attacks that cut the enemies attack rate. This class has a heal over time buff it can cast on other players as well as itself. It also has an Area of Effect buff that increases player magic points temporarily. The level 80 class change is to templar with holy avenger to be available in the future.  In-game events Secret of the Solstice's game masters (GMs) run two to three in-game events every week, which any of the game's players can attend unless it's a special event requiring Solstice store Items. Events range from "find me" events, essentially hide and seek events where players must find a GM or NPC to competitive player versus player events like "Solstice Survivor" and social events such as weddings and holiday-themed parties. Occasionally the GMs also run story-based events, with GMs often playing the parts of important NPCs or antagonists. The outcome of these events shapes the narrative of Secret of the Solstice, allowing participating players to write the game's ongoing storyline as they play.
Secret of the Solstice Introduction | 326 views read more ...